Brewed by Ben Centra, this beer was the winner of our October 2020 "Weird Saison" club competition. It was based on the Saison recipe from Brewing Classic Styles, but with added lemon zest in the boil and fermented on strawberries. The lemon adds a brightness to the beer, the strawberries a sweet round flavor, and both are balanced out by the classic Saison "funk."
Style: Saison
Original Batch Size: 5 Gallons
Recipe Type: Extract
Original Gravity: 1.066
Final Gravity: 1.010
ABV: 7.4%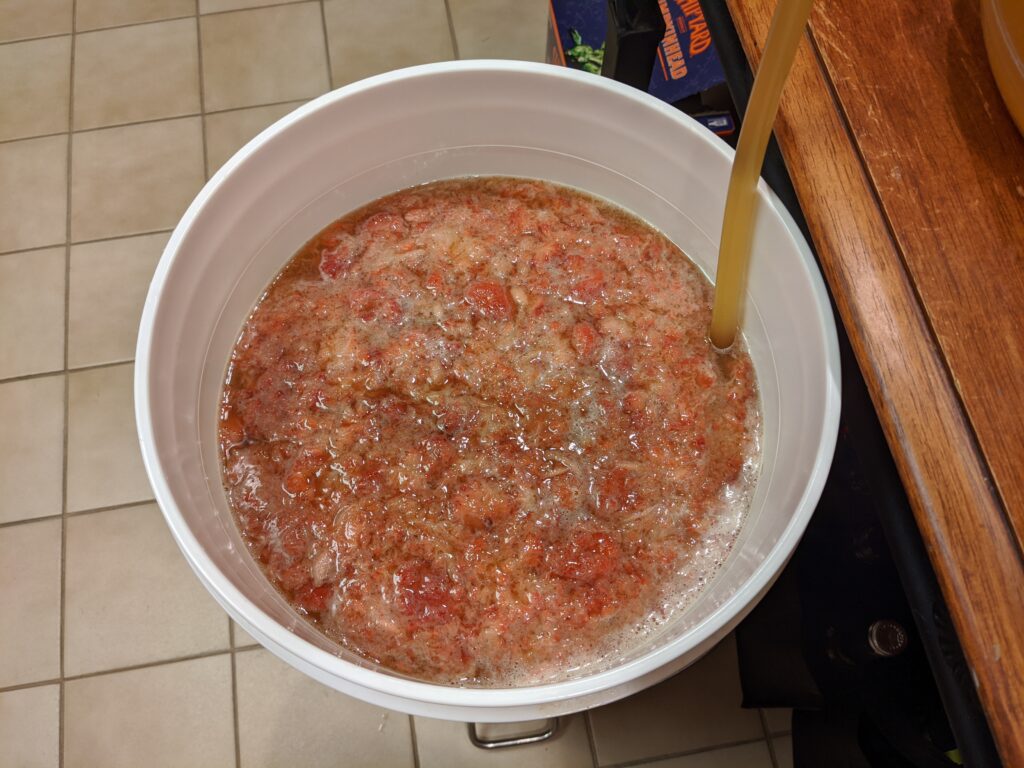 Mash
6 pounds light dry malt extract
1 pound cane sugar
1 pound wheat malt
0.75 pounds Munich malt
2 ounces Caramunich malt
Steep the malt for one hour in three quarts of 155°F water. Sparge the grain with hot water (about 170°F), bringing the total volume up to 2 gallons. Stir in the malt extract and cane sugar.
Boil
1.75 oz Hallertau @ 60 minutes
2 oz lemon zest @ 5 minutes
0.75 oz Hallertau @ 0 minutes
Bring the wort to a boil and add the hops and lemon zest according to the schedule above.
Fermentation
2 packages White Labs WLP 565 (Belgian Saison I)
Chill the wort and top off with water until you hit 5 gallons volume, or the original gravity is right. Transfer the wort to a fermentor and pitch the yeast.
Other Ingredients
After a week of fermentation, transfer the beer to a clean fermentor and add the strawberries. If using frozen strawberries, let them thaw at room temperature first.
You can read more about this beer on Ben's website!